2023-2024 Research Grant Call for Proposals
SAIGE Research Grant Proposals—2023-2024
Deadline: To be considered, the submission email must be received by 11:59 p.m. EST, November 1, 2023. All submissions that are received by the deadline and meet all listed requirements will be considered.
Purpose: The purpose for this call for proposals is to fund research that supports the mission of the Society for Sexual, Affectional, Intersex, and Gender Expansive Identities (SAIGE), specifically,
Research to promote greater awareness and understanding of lesbian, gay, bisexual, transgender, gender expansive, and queer/questioning (LGBTGEQ+) issues among members of the counseling profession and related helping occupations;
Research to improve standards and delivery of counseling services provided to LGBTGEQ+ clients and communities;
Research to identify conditions that create barriers to the human growth and development of LGBTGEQ+ clients and communities, as well as the use of counseling skills, programs, and efforts to preserve, protect, and promote such development;
Research that develops, implements, and fosters interest in counseling-related charitable, scientific, and educational programs designed to further the human growth and development of LGBTGEQ+
clients and communities;
Research to secure equality of treatment, advancement, qualifications, and status of LGBTGEQ+ members of the counseling profession and related helping occupations.
Who May Apply: Proposals from current professional and student members of SAIGE will be considered. Individuals may submit (or be part of a submission team) for only one proposal. ALL members of the submission team must be members of SAIGE.
Maximum Amount Funded: SAIGE has allocated $1,000 to fund two research proposals – each will receive $500 for research projects.
**For 2023-2024, special consideration will be given to researchers proposing research related to Queer and Trans Black and Indigenous People of Color (QTBIPOC). SAIGE members submitting grant proposals for research being conducted with and/or by QTBIPOC individuals will be given priority consideration.
Proposal Submission: Proposals must adhere to each of the following requirements to be considered:
Submit proposal to Dr. Whitney P. Akers,

[email protected]

by 11:59 p.m. EST, November 1, 2023;
Email only, no paper or faxed proposals considered;
Email subject line: SAIGE RESEARCH GRANT PROPOSAL;
Attachment 1—Completed application form (copy page 3 of this document);
Attachment 2—Deidentified copy of proposal (if any included information may be used to identify an applicant by name or location, application will be disqualified);
Attachment 3—Copy of proposal including name(s) of applicant(s);
Attachment 4—Deidentified positionality statement detailing researcher or research team positionality/intersectional identities;
Additional attachments will not be reviewed.
Proposal Format:
Microsoft Word document only; other file formats will not be reviewed;
Times New Roman, 12-point font, double spaced, one-inch margins;
Five (5) pages maximum, not including application form or references;
No title page; only the first five pages of a proposal will be reviewed.
APA Formatting 7th Edition required
Recommended outline for proposal:
Rationale, including brief literature review;
Methodology;
Ethical considerations;
Budget, including any other funding for the research (source and amount);
Plan for dissemination;
References.
Conditions of Award Acceptance:
Funds may not be used for time compensation (including GA work) unless employee is provided with an IRS Form 1099 so that payment may be taxed appropriately.
Funds may be used for time such as transcription or statistical consultation if receipts are provided. Primary researcher must maintain copies of receipts and make them available to SAIGE upon request.
The proposed project may not be completed prior to grant being awarded.
Within 12 months of the grant being awarded, the researcher(s) is required to submit to SAIGE a report detailing status of project and utilization of funds/continued plan to utilize funds. Please submit to

[email protected]

Within 24 months of the grant being awarded, the researcher(s) is required to submit to SAIGE a copy of either a proposal to present results at the SAIGE National Conference (as poster or education session), ACA World Conference (as poster or education session), or the manuscript that has been submitted to a refereed journal for publication consideration.  Special preference will be provided to applicants who target the Journal of LGBTQ Issues in Counseling (JLGBTQIC) as a potential dissemination source. Please submit to

[email protected]

The researcher will include an acknowledgment of SAIGE's financial support in all reports, presentations, or publications related to the project.
Evaluation Criteria: Proposals will be evaluated by the research committee using the following criteria:
Qualifications of the researcher(s)—all research team members must be professional or student members of SAIGE, who are submitting only one proposal for this grant cycle.  Applicant ACA ID numbers should be included in the application form and proposal title page in Attachment 3 (non-deidentified information).
Quality of the proposed research
Proposed research supports the SAIGE mission (25 points possible)
Proposed research is relevant as evidenced by the literature review (25 points possible)
Proposed research methodology is well detailed, appropriate for the research question, meets applicable ethical standards, and follows accepted practice (25 points possible)
Proposed research is formatted correctly (APA 7th Edition), and presented in a professional manner (10 points possible)
Financial need—proposed budget is clear and itemized and meets the listed requirements for award acceptance (10 points possible)
Plan for dissemination—clear, feasible, and appropriate plan to disseminate research findings, including listed requirements for acceptance (5 points possible)
Grants Award Date: Recipients will be notified of awards by December 15, 2023.
For more information, contact Whitney Akers, [email protected], SAIGE Professional Trustee for Research & Scholarship.
SAIGE Research Grant—2023–2024
Application Form
Principal Researcher:
ACA Membership #:
Title:
Institution:
Address:
City:      State:      Zip:
Phone:      Email:
Additional Researchers (name, ACA ID#, title, institution):
Title of Proposed Research:
All researchers listed are members of SAIGE (Required)  yes/no?
Membership Status of Applicants: Professional or student?
This proposal is the only submission by this/these researcher(s) for the SAIGE grant this year (yes/no)?
Is this project supported by another funding source (yes/no)?
If yes, provide source(s) and amount(s):
Researchers are willing to comply with all conditions of the SAIGE award as listed in the call for proposals, including requirements for dissemination of findings and acknowledgement of SAIGE support (yes/no)?
Past-President and President Remarks 2023-2024
Call for Manuscripts - Special Issue within JLGBTQIC
Special Issue: Diversity Within LGBTGEQIAP+ Youth and Adult Populations
Invited Guest Editors:
Tamekia Bell, Ph.D., Immediate Past-President of SAIGE
Christie Jenkins, Ph.D., SAIGE President 2021-2022
This is a two-part special issue focusing on two critical areas within the broader needs of of Lesbian, Gay, Bisexual, Transgender, Gender Expansive, Queer/Questioning, Intersex, Asexual, Aromantic, Agender, Ally, and Pansexual (LGBTGEQIAP+) youth and adults. This first part focuses on (1) the needs and experiences of LGBTGEQIAP + children, adolescents, and transition-aged youth, and the second part focuses on (2) the communities among LGBTGEQIAP + adults that are traditionally under-represented in the literature base such as BIPOC, intersex, and international LGBTGEQIAP + populations across the lifespan. Two areas with different life stages in focus, but with evident and important overlaps: the impact of early life experience reverberates in adulthood, and the adults looking after LGBTQ+ youth have an important influence on their coming of age.
The JLGBTQIC is dedicated to featuring rigorous scholarship that addresses the developmental, mental health, ecological, and social needs of LGBTGEQIAP+ individuals and communities. Over the more than 15 years existence of the journal, conceptual and empirical scholarship on how counselors can engage in affirmative counseling work with and on behalf of LGBGEQIAP+ people, whether direct service, teaching and training, or advocacy, has helped moved the professional counseling field towards greater inclusiveness regarding gender identity and sexual-affectional identity diversity and liberation. Areas where the JLGBTQIC has led other journals in terms of featuring original scholarship include novel research on transgender and nonbinary individuals' mental health, competency statements outlining affirmative frameworks for counseling LGBGEQIAP+ people, wellness and strengths-based counseling and advocacy, theoretical and data-driven articles on applying intersectionality theory to counseling work, and several focused special issues on school counseling with LGBGEQIAP+ individuals. During a time when the open and affirming standard of care for work with LGBGEQIAP+ people in general, and children, adolescents, and youth has come under attack, it is vital that counselor-advocates re-commit to engaging with the wellness and advocacy needs of these historically and currently marginalized populations based on deep awareness of their everyday lived experiences. Counseling, education, and healthcare that is affirming towards the identities, relationships, modes of expression, and lived experiences of LGBGEQIAP+ diverse communities. We want to highlight the needs and best counseling practices for intersecting communities that continue to demonstrate added mental health stress. As a mode of advocacy and in the spirit of asserting the ethical, scholarly, and practice-based support for affirmative counseling as the standard of care for work with LGBGEQIAP+ people, the JLGBTQIC editorial team and guest editors invite the submission of manuscripts that address the two critical needs areas identified below.
 First part - The needs and experiences of LGBTQ+ children, adolescents, and transition-aged youth
Topics and focus areas that are especially suited to the first part of the special issue include:
Primers on what counselors need to know about the resilience, needs, and growth of LGBTGEQIAP+ children, adolescents, and youth
Case-studies on wellness and strength-based best practices in counseling and advocacy with and on-behalf of LGBTGEQIAP+ children, adolescents, and youth
The role of technology in the lives of LGBTGEQIAP+ children, adolescents, and youth
Addressing adverse childhood experiences (ACES) and interpersonal/family based violence and its role on child development.
The impact of governmental policies affirming or disaffirming towards LGBTGEQIAP+ children, adolescents, and youth
Second part - The intersectional diversity within adult LGBTQ+ populations
Topics and focus areas that are especially suited to the second part of the special issue include:
Advocacy efforts for LGBTGEQIAP+ with intersecting identities (i.e. race/ethnicity, age, disability status, social class, religion/spirituality)
Primers on what counselors need to know about working with LGBTGEQIAP+ communities with intersecting identities
Allyship/Accompliceship for LGBTGEQIAP+ communities
LGBTGEQIAP+ across the world - what counselors need to know
Leadership development with and among LGBTGEQIAP+ BIPOC communities
Timetable
Full-length manuscripts due: October 15th, 2023
Initial disposition and feedback to authors: November 15th, 2023
Revised manuscripts due: January 15th, 2024
Final manuscripts due and cross-checking completed: March 15th, 2024
Manuscripts published: Target for first issue August, 2024
Questions about manuscript suitability and appropriateness should be directed to Jeff Moe at [email protected].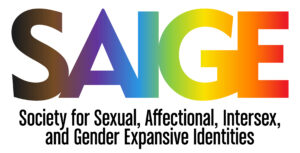 Our division of the American Counseling Association is a home for Queer and Trans Counselors, Ally Counselors, and Advocates to connect and grow.
Our focus is on building competence for all mental health specialists so that all LGBTGEQIAP+ individuals can find a safe and affirming space to heal.
We promote research and education that furthers the counseling field in working with LGBTGEQIAP+ people of intersecting identities.
We mentor new professionals and emerging leaders in the field of counseling LGBTGEQIAP+ clients.
We connect and work closely with ACA and other ACA divisions in order to promote multicultural competence and social justice. We advocate for LGBTGEQIAP+ clients in communities, mental health systems, and public policy.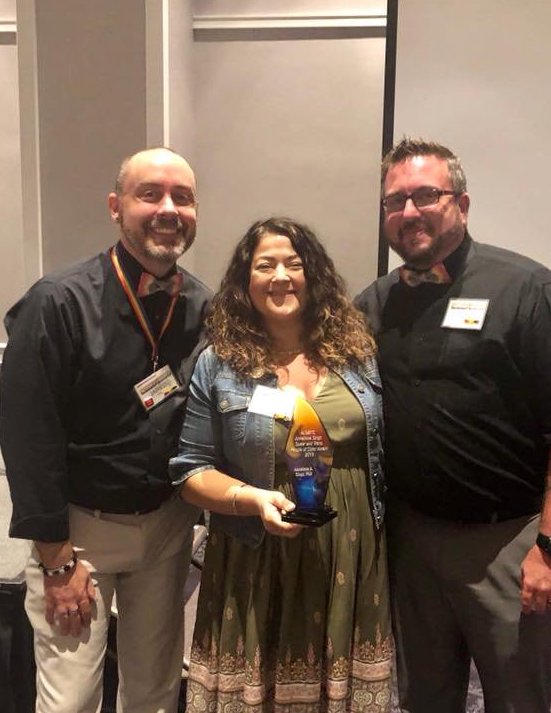 LGBTGEQIAP+ Initialism
Learn about the initials that we use to describe the communities that we serve.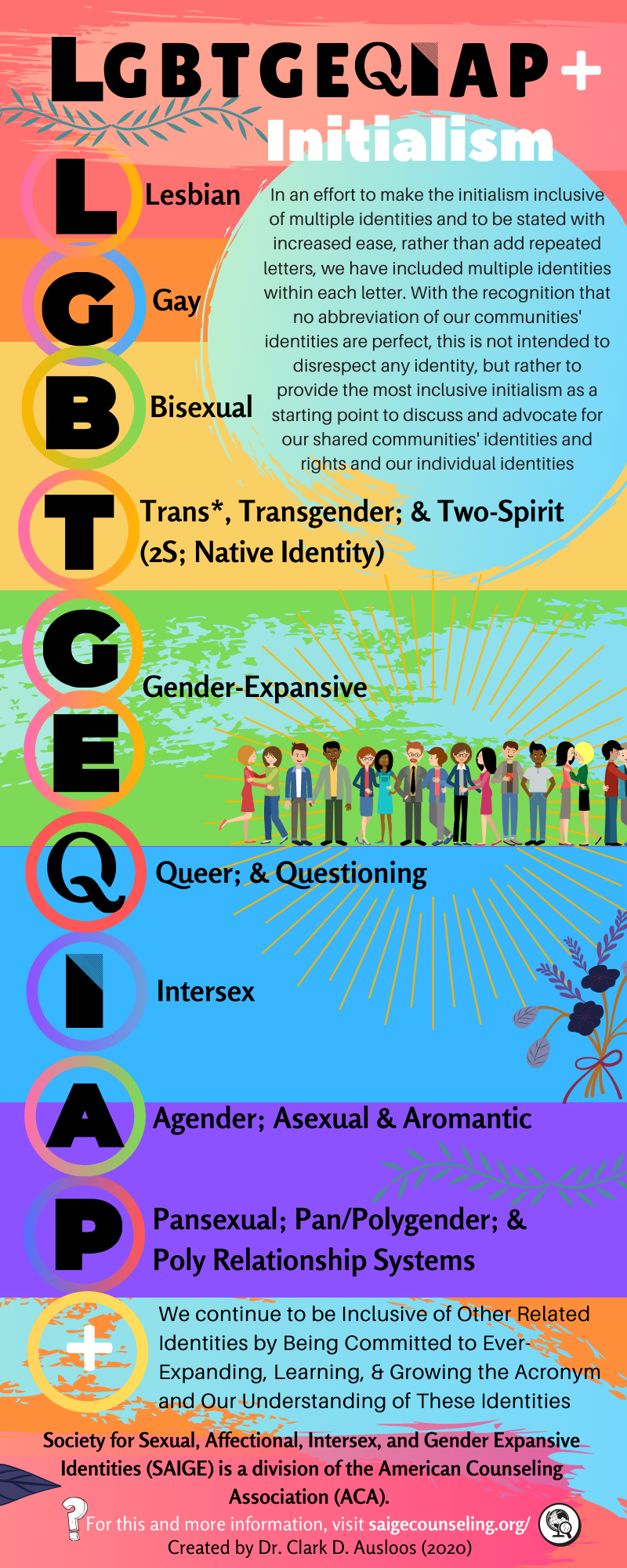 Learn about our new campaign to educate counselors on the importance of intersectionality in our personal and professional lives.
Learn More!
Become a Member of SAIGE to receive access to all resources in order to improve your competence with LGBTGEQIAP+ clients. Benefits include opportunities to network with other like-minded professionals, researchers, and pioneers in LGBTGEQIAP+ social justice and advocacy, reduced prices for educational webinars and biennual SAIGE conferences.
How do you work competently in counseling with Queer and Trans People? How do you incorporate intersecting identities, like ethnicity, religion, disability, socio-economic status, and immigration status?
Become an advocate and leader in the field of counseling LGBTGEQIAP+ clients by volunteering with SAIGE through service on our various committees, participating in events, or consider running for a place on the Board.